Mikro Hair
The Mikro Hair method is designed to provide professional help to people suffering from a variety of hair loss issues. We have devoted many years to the development of specialised scalp micropigmentation technology as an effective, innovative and non-surgical remedy for balding and skin graft scars. Our knowledge, which is based on years of experience, makes it possible to completely control the long-term effects of pigment on the scalp (thereby avoiding the potential risk of adverse effects in the future). The results are immediate and allow for extremely natural effects. Clients can also be assured that the method is totally safe.We achieve our goal by performing specialised treatments in the first centre of its kind in Poland, as well as offering professional training courses.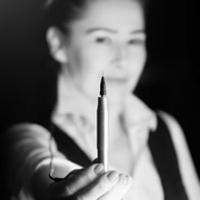 AGNIESZKA ZAPAŁA ABOUT HER METHOD
When creating my own micropigmentation method of the scalp I was guided by the need to help those who want to improve their well-being, their appearance by hiding the process of balding or camouflaging of scars. I wanted the method to ensure full control over the effects of the treatment and make it possible to adapt the treatment to a changing appearance.